About US
We purchased our first Irish Setter in 1981, Canus County Galway, and immediately fell in the love with the breed. I did obedience with Galli and finished her CD with a High-in-Trial. We meet Barbara and Gail Riegle and purchased a older bitch and dog and finished both of them with Specialty wins. Ch Regalaire Regining Princess and Ch Regalaire Classic Tribute were the foundation stock for our kennel Emerald Isl's. We became very involved with the Irish Setter Club of Michigan and meet many people along the way, one couple being Frank and Katherine Wheatley.
We had always admired the Rockherin line and both our foundation stock went back to their breeding. I had the great opportunity to spend sometime with Katherine and Frank Wheatley and they asked me to co-own and show a beautiful bitch Maggie who became Ch Rockherin Center Stage, ROM. She became the new foundation bitch for mine and Katherine's kennel.
Maggie was a great producer for us and our breeding program continues on with her children and grandchildren. I continue to learn and grow my knowledge of this breed with Katherine's help and her 56 years of experience in Irish Setters.

Katherine and I bred together under the Rockherin Kennel name until her passing at 95 years old in 2015. I have gone back to my kennel name Emerald Isl's.

I am past President of the Irish Setter Club of America and a AKC Judge. I have had the privilege of judging Irish Setter Specialties across the country and in Australia. After 34 years of being involved with Irish Setters, my love affair with this breed will never die. We breed to produce healthy, sound and good temperment Irish Setters.
We hope you enjoy our website.

Susan Schafer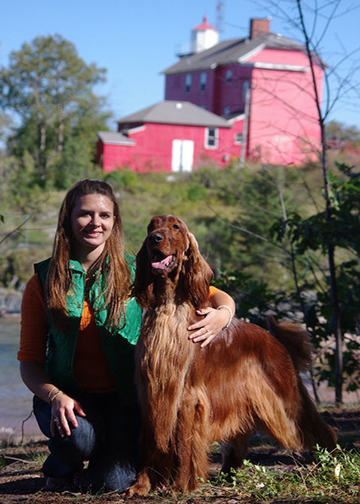 I have had the pleasure of being a part of Rockherin and Emerald Islís Irish Setters for the past 20 years after getting my first bitch from Debbie Davis and Katherine Wheatley, Ch. Rockherin A Moment In Time (Tara). I finished her with specialty majors and showed her in junior showmanship. Together we qualified for Westminster and Eukanuba multiple times.

Debbie and Katherine have been my mentors of this beautiful breed. Co-breeding with them has been a wonderful opportunity to breed sound and healthy representatives of the Irish Setter we all know and love. We have bred specialty and group winning dogs who also excel in the field. Debbie and I hope to carry on the classic Irish Setter beauty and type that Katherine has left us with, and never lose what would be her vision of quality that meets the standard.